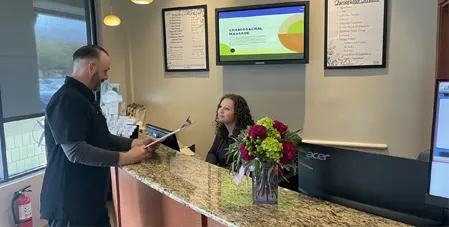 WE ADDRESS THE CAUSE OF YOUR PAIN, NOT JUST THE SYMPTOM.
Still Point Massage
MASSAGE THERAPY Canton MI
Welcome to Still Point Massage, located in Canton MI near the Plymouth border. At Still Point Massage, we offer the highest quality restorative and rehabilitative massage therapy in Canton MI, in a serene and ambient setting to help you achieve relaxation and stress relief in addition to therapeutic healing!
Our team provides outstanding massage therapy in Canton MI.
Don't take our word for it, hear what our clients have had to say about the care we provide.
Still Point Massage
BENEFITS OF MASSAGE
We provide effective natural health solutions that are designed just for you. Massage comes with many benefits such as reduced muscle tension, improved circulation, reduced stress, improves skin tone, improved sleep, and boosts immune system.
MASSAGE THERAPY IN CANTON MI
My name is Eric Broad, D.C. – owner and operator extraordinaire! I grew up just outside of Canton MI, but knew early on that whatever I ended up doing, I wanted to do it there! Canton MI's natural beauty and family-oriented culture resonated with me as the perfect place to start my business.
Even though I'm a chiropractor, I've been fortunate enough to experience the benefits of massage therapy for several years. As a result, adding massage therapy to my massage therapy office was a no-brainer! Now, having offered massage in Canton MI since 2008, I realize a large part of my success can be attributed to the outstanding opportunities Canton MI has provided me.
CONDITIONS WE HELP
Is low back pain preventing you from enjoying quality time with your grandchildren? Maybe headaches are plaguing you, or old sports injuries are keeping you from the court? Our Canton MI massage therapists can help you get back to a healthier state of being. We successfully treat these and other conditions such as neck pain, repetitive stress injuries, fibromyalgia, and TMJ dysfunction to name a few. Pain is not a lifestyle!
COMMON MISCONCEPTIONS
It's commonly assumed that massage is just a luxury; however, this couldn't be further from the truth! Regular massage therapy can be an effective treatment for reducing stress, anxiety, and muscle tension. Additionally, massage can assist in improving exercise performance, reducing post-operative pain, and increasing mental alertness – just to name a few things! In fact, the number of conditions shown to be manageable through massage has led to a significant increase in insurance companies covering the cost of massage treatments. Fortunately, we offer insurance massage in Canton MI, too!
WELCOME TO STILL POINT MASSAGE
We are conveniently located on the border of Canton MI and Plymouth MI in the flourishing Coventry Commons Plaza. Find us on the southeast corner of Joy and Morton Taylor Rds., next to Broad Family Chiropractic.
At Still Point Massage, my team and I strive to create an environment that is different from other Canton MI massage offices. Though we specialize in therapeutic massage, we realize the benefits stress relief and relaxation can provide for overall health. So we've taken great care to blend our rehabilitative style with one that is also calming and rejuvenating. Over the years, I've also expanded my team to better provide each and every client with different perspectives of care. We currently have over ten therapists that offer a large range of styles - I'm confident you'll find at least one that can meet (and exceed) your needs! Additionally, I'm a firm believer in taking a well-rounded approach to healthcare. For that reason, we also have massage therapy services available to further help you achieve your wellness goals.
Curious to see what wonderful benefits massage therapy can provide you? Whether you're ready to make an appointment or just want to ask some questions, feel free to contact our Canton MI massage office at (734) 354-9900 or click on the 'Contact' tab at the top of the page. My team and I look forward to meeting you – and helping you achieve a pain-free lifestyle!